Kimberly
and her hubby run an orphanage in Kenya and she wanted a new blog design to reflect their life in Kenya. This is what I came up with.
Other work this week has included...
Updating header pics for
Alyson & Ford
.
Creating a new graphic for
Crystal
.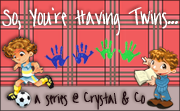 Making a frame for Alison, who used her referral coupon. Look at her adorable newborn son!
And making a frame for Catherine's blog.